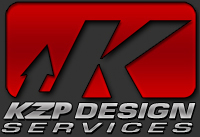 KZP Design Services is a design firm based in Newport Beach, California. We're a team of experts in both the technical and the creative. With years of experience, our portfolio alone shows the vast talent that is within our grasp. Every project is handled with care and created with 100% unique artwork, to give your business a powerful tool for success.
But, that's just the beginning.

KZP Design extends our available services by working with an incredibly talented group of project people and diverse business partners to deliver the end product you've come to expect from professionals. Our organization has formed direct links to others that will benefit your business, such as high quality printers, photographers, screen printers, die cutters, and more, to bring the quality and value you expect without the hassles of multiple outsourcing of your business.
KZP Design Services is a division of Kazorp, LLC.